To be clear Rockwell Kent is a North Country Artist and I really like him.
He lived in Au Sable Forks , but did he travel!!
 Rockwell Kent (1882-1971) was born in Tarrytown, NY and spent much of his early life in and around New York City. In his late teens he studied painting with William Merritt Chase. He studied architecture at Columbia University before withdrawing to become an artist. Painters Robert Henri and Abbott Thayer were later teachers. His first solo show was in 1907 in Manhattan. An early exposure to travel became a passion throughout his life as he visited, painted, and wrote about his numerous travels to Monhegan Island, Maine, Newfoundland, Alaska, Tierra del Fuego, Ireland, and Greenland, among others. Besides his renown as a painter, Kent was also a gifted printmaker, book illustrator, designer, commercial artist, and popular travel author. A member of the socialist party since his 20's, Kent maintained a life-long commitment to international, national, and local political activism. In the 1940s and 50's his leftist sympathies would cost him both popularity and income as an artist. Kent was married three times: from 1909 to 1925 to Kathleen Whiting, with whom they had five children; from 1926 to 1940 to Frances Lee; and from 1940 to his death to Shirley "Sally" Johnstone. In 1927 Kent and Frances purchased a dairy farm, and named it "Asgaard" in Au Sable Forks in the eastern Adirondacks. Throughout his career as an artist and world traveler, Kent would operate Asgaard as a working farm and call it home for the rest of his life.
             
I

n the 1920s and 1930s Rockwell Kent was the most celebrated author-artist in the United States. His paintings reflected the influences of Thoreau and Emerson and the Transcendentalists and his first book, 

Wilderness

, published in 1920, was described by the New Statesman of London as "easily the most remarkable book to come out of America since 

Leaves of Gras

s was published" 65 years earlier.
Kent was an acclaimed fine artist and a successful commercial artist: his paintings hung in major museums, and he also designed hundreds of bookplates for individuals and logos and advertisements for commercial ventures. He became an American explorer, moving for years at a time to remote areas in Alaska, Tierra del Fuego, Greenland, and elsewhere. He wrote and illustrated books of his own explorations, illustrated others' books, designed and illustrated the first book printed by the fledgling publishing company Random House, and eventually created lines of illustrated ceramics, designed illustrated fabrics, experimented with bronze works, and for a time had a line of silk scarves with his illustrations from Moby Dick. Working from his farm in upstate New York, Kent's art and writing touched millions around the globe. His works – based in American values and allied with American aspirations – were highly valued: Kent became an early example of "branding" in American culture and commerce.
In the 1930s Kent, like many other American writers and artists, embraced the ideals of the young revolutionary workers' paradise, the Soviet Union, envisioning a democratic state that exalted the common man. Later, as a result of the Second World War and the subsequent Cold War between the U.S. and the Soviet Union, Kent's allegiance to left-wing politics alienated him from mainstream U.S. culture and he and his work fell out of favor. In the 1950s, he found difficulty finding a publisher for his new work and couldn't even give his paintings away when he tried to. At the same time, an exhibition of his work in Russia drew hundreds of thousands of enthusiastic visitors. In 1960, Kent gave 80 paintings, 800 drawings, and all his manuscripts to Russia.
---
Moby Dick Illustrations and Page Texts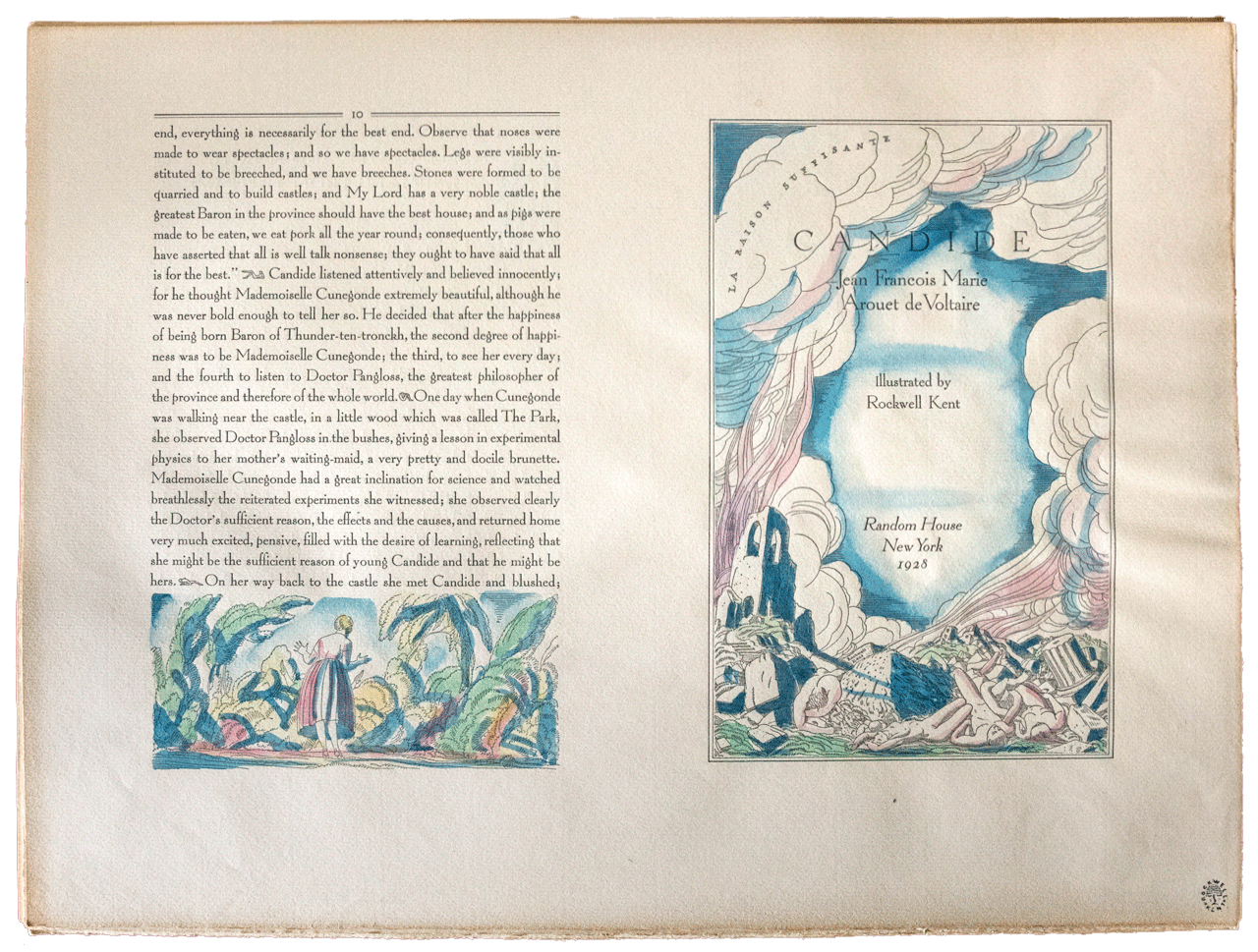 Rocky Painting the GE Mural
Rockwell Kent painting a mural 15 feet high and 50 feet long for the General Electric Company exhibition at the 1939 New York World's Fair, "portraying the vital influences of electricity on human progress from the dark ages to the present, and its promise for the world of tomorrow."
---
Kent's own copy of the unbound sheets for Candide, the first book published by Random House, designed and illustrated by Kent, and this copy hand-colored by him and stamped with his personal monogram on nearly every page. Includes the leaflet bearing the hand-colored, suppressed illustration by Kent, signed by him.
This collection, assembled by Robert and Donna Jackson of Shaker Heights, Ohio, is likely the finest collection of Kent's works in private hands in the U.S. It includes original material – a Greenland sketchbook, original art, letters, and several short manuscripts and one long one – as well as examples of Kent's work in virtually every field and medium, including rare and one-of-a-kind pieces, such as Kent's own hand colored copy of the sheets of the first Random House book, 

Candide by Voltaire

, with the erotic illustration that was suppressed in publication. The collection represents a rich vein of the American artistic and cultural heritage, linking the pastoral ideals of the 19th century to the politics and technological landscapes of the 20th.
The Robert and Donna Jackson collection of Rockwell Kent is probably the largest collection in private hands today, with numerous rare or one-of-a-kind artifacts and examples of Kent's work showing the range and breadth of his artistic and commercial impact, a resource with enormous historical, scholarly and research value.
Some books illustrated by Rockwell Kent and general info;
Links :